EU Dublin Treaty crushing Mediterranean states under asylum burden
Comments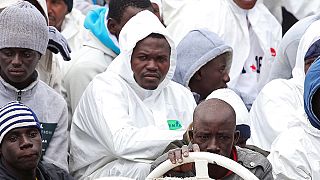 The flow of people from Africa to Europe has increased significantly this year, most of them landing in Italy. From January to May, Italy received more than 45,000 migrants, ten percent more than during the same period last year, according to the UN High Commissioner for Refugees. Italy can't cope alone with the volume of asylum-seekers, nor can Greece.
It is the moment to stop using solidarity as a slogan.
The EU's Treaty of Dublin says asylum seekers have to be processed in the country they first set foot in.
In May, the European Commission proposed that each EU member state receive a quota of migrants to process their applications, not just automatically foisting it on the state of entry.
Migration Commissioner Dimitris Avramopoulos, at a briefing in Brussels, summed up:
"We must share responsibility all together. It is the moment that solidarity must become a practical policy. Two weeks ago, from this very same podium I said: 'It is the moment to stop using solidarity as a slogan.'"
The increase in asylum seekers arriving in southern EU states lays bare disparities built into the Dublin accord, which had aimed to prevent migrants from applying in more than one country.
The Commission proposes to set quotas according to each member state's GDP, population, rate of unemployment and the number of asylum seekers and refugees taken in over the past five years, from 2010 to 2014.
By this guide rule, almost half of the some 40,000 Syrians and Eritreans currently in Italy and Greece would be repartitioned among Germany, France and Spain. The states that have opt-outs from European policy on migration are Denmark, Ireland and the UK.