Gunmen attack police station in Dallas, Texas
Comments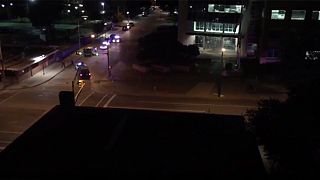 A group of up to four gunmen attacked a police station in Texas overnight, firing at officers.
A black van then rammed a police vehicle outside their Dallas headquarters.
Men from inside the armoured van began firing with automatic weapons before fleeing the scene.
Armored van lured police, fired upon, and rammed police pic.twitter.com/luf2U1SMje

— Madhu (@madwho12) June 13, 2015
A bomb was later discovered outside the building, which exploded when examined by a police robot. There are no reports of injuries.
Another video showed a police officer approaching the vehicle and then fleeing when he realised the threat. A large number of shots are subsequently heard.
Dallas police officer running for his life after realizing the threat was the armored van! pic.twitter.com/TRjePXFZJS

— German Chavez Majluf (@germanito006) June 13, 2015
Police pursued the vehicle, said to be armoured with firing holes cut into its sides.
When the van stopped in a fast food restaurant parking lot in the city of Hutchins there was an exchange of fire.
Dallas police chief David Brown said at a press conference that one of the suspects had identified himself to local residents as James Boulware.
He said police had taken his son and accused him of being a terrorist.
Gunmen attacked Dallas Police headquarters on Saturday (June 13) morning and an explosive device was later found outside the building.
A stand-off is continuing between the gunmen and police.
Video credits: madwho12 and germanito006