Engineers flood newly-expanded Panama Canal section
Comments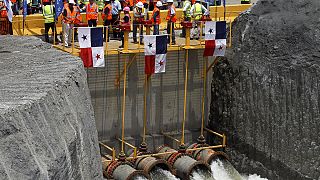 Engineers have started to flood a newly enlarged section of the Panama Canal aimed at allowing larger ships to use the waterway.
The work, which began in 2006, will allow the canal to handle vessels capable of carrying 2.5 times the number of containers held by ships currently using the channel.
The Panama Canal is one of the world's most important maritime routes. It connects the Pacific Ocean with the Atlantic via the Caribbean Sea, saving time and money for shipping companies.
But this latest expansion has been dogged by costly overruns and delays.
"We have come through some very delicate moments in this process where the work was stopped on two occasions", said Jorge Quijano, administrator of the Panama Canal. "There have been tense moments between contractors and the Panama Canal authorities. However we have always tried to focus on completing this work and the exciting part now is that we can finally see the light at the end of the tunnel."
Crowds of construction workers witnessed the the first gush of water from an artificial lake into some of the giant locks that are a key part of the canal's multibillion-dollar expansion.
Stress tests will take place over the next few months to see how the new locks handle the increased volume of water.
If all goes to plan ships will start to benefit from the project in 2016.