Scottish First Minister not received in White House while in Washington
Comments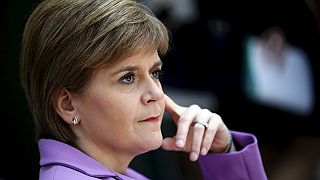 At the conclusion of her four-day visit to the United States, First Minister of Scotland Nicola Sturgeon spoke at the Council on Foreign Relations in Washington. During a question & answer session with the audience she was asked whether it rankled her that she was not received in the Oval Office – unlike members of the British royal family on their trips to the US.
"No. Not at all", she replied a little irritated, speaking instead of the "fantastic reception" she had enjoyed at every other stop in America. Well, maybe, but not in the White House…
The little exchange with a European journalist illustrates that the US is a complicated territory for a Scottish politician with an ambitious agenda.
Last September, there was huge collective sigh of relief among US policymakers, after Scotland decisively rejected independence, 55 percent to 45 percent.
Fearing being counterproductive, President Barack Obama had not wanted to weigh in in the run-up to the referendum. But his stated preference for "a strong United Kingdom" left little doubt about where he came down on the issue.
Scottish independence is seen in Washington as a pointless exercise that only weakens America's closest ally on the international stage while adding a lot of political and economic uncertainty to Europe's existing problems.
Cognizant of Washington's policy reservations, Nicola Sturgeon presented herself as a staunch defender of Britain remaining in the European Union, finding common ground with the administration.
"There's no doubt that there's a very palpable sense of concern at the prospect of the UK coming out of the EU and an interest in how that debate will develop," she said after a meeting with US Deputy Secretary of State Antony Blinken.
Reflecting on Britain's special relationship with the US, she said US-UK relations will always be strong despite the possibility of "Brexit".
Sturgeon also said the US administration is concerned about potential cuts to British defense budgets and Prime Minister David Cameron's unwillingness to commit to NATO spending targets.
Speaking to the possibility of another referendum on Scottish independence, Sturgeon remained evasive.
"There is no second Scottish independence referendum on the immediate horizon of course", she told her Washington audience.
But she added: "People in Scotland are watching quite carefully just now to see how David Cameron's government responds. If it responds well, then the message people will take is that Westminster is responsive, it is adaptable, it can serve Scotland better. If it doesn't then that message will be a very different one."