EU charming CELAC states for trade and investment stakes
Comments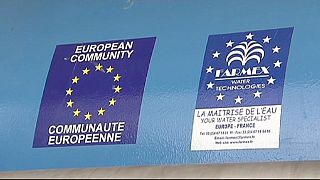 The first EU-CELAC Summit — the European Union and the Community of Latin American and Caribbean States — was held in January 2013, in Santiago, Chile.
The second is taking place 10-11 June in Brussels.
When transatlantic meetings started in the 1970s they received little attention, but they warrant more today, since the populations of all the countries involved total more than one billion people, and EU investment in Latin America outstrips the competition.
Former European Commission President Jose Manuel Barroso underscored this:
"The numbers are impressive. With more than 385 billion euros (or around $516 billion), European investment stock in Latin America is superior to the stock of Japan, Russia, China and India put together."
The EU is also the number one aid donor to the CELAC countries, combining support provided by the European Commission and the EU's 28 member states.
The two blocs together represent nearly one quarter of the world's GDP.
The EU is second only to the United States as a trade partner with CELAC, and the Latin American-Caribbean bloc is the EU's fifth-largest trading partner.
Last year, EU total exports to CELAC destinations were valued at more than 110 billion euros, while CELAC imports into the EU were worth more than 98 billion euros.
The EU sells manufactured goods or processed products for the most part (87 percent), and in the other direction CELAC's exports are above all raw materials.
Germany does the most business, with a 28 percent share of exports, followed by Spain with 13 percent, Italy with 12 percent, France with 11 percent and the Netherlands with 9 percent.
And yet Europe's influence on the other side of the Atlantic is shrinking, according to Sebastián Santander, who is an expert in international relations at the University of Liège in Belgium.
Santander said: "The emerging powers have arrived in Latin America. Europe is in crisis, Europe represents less interest than in the past for Latin America, and China has an increasingly important place, economically, commercially, financially and even politically."
Although the EU's chief diplomat Federica Mogherini has been to Cuba twice, signposting interest and openness, many observers suspect that the EU-CELAC summit itself will not amount to much more than a diplomatic get together.