African leaders sign pact to create 'Cape to Cairo' free trade bloc
Comments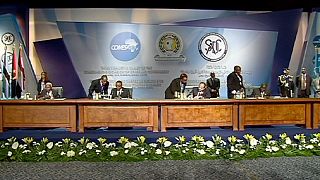 African leaders have signed a agreement in Egypt to create a new free-trade zone stretching from Cairo to Cape Town.
The Tripartite Free Trade Area (TFTA) will include 26 countries – around half the continent's total – uniting three existing trade blocs in eastern and southern Africa.
It is hoped that reducing trade barriers will bring prices down and boost economic activity between African countries that has long suffered for several reasons including poor infrastructure.
The Sudanese ambassador in Cairo, Abed Almahmoud Abed Alhalem, told euronews:
"We are facing internal and external obstacles. In terms of internal obstacles we are suffering from economic protectionism policies and bureaucracy within some countries, and also the lack of political will to launch a free trade zone. As well as that there are the conflicts between some African countries and the lack of security and stability in many countries."
The three trade blocs which are coming together are the Southern African Development Community (SADC), the Common Market for Eastern and Southern Africa (COMESA), and the East African Community (EAC).
Once in place, the TFTA will represent 57 percent of the continent's GDP and 60 percent of its population. It will include Egypt and South Africa, the most developed countries. But Nigeria, Africa's largest economy thanks to its petrol, will be outside the zone.
"What is important now is for the leaders is to continue this initiative on a very regular basis. The international community also is ready to partner with the African countries. The World Bank in particular is very very supportive of this initiative," said Lawan Gana Guba, Nigeria's Ambassador to Egypt.
The signing of the agreement is the first step in the process – each country's parliament will have to approve the deal for it to take effect.
Euronews correspondent Mohammed Shaikhibrahim reported from Sharm El Sheikh:
"Today's summit is an important step towards exploiting economic capacity and using the African continent's natural resources which the leaders say they hope will benefit all African people."