Draghi says volatility is here to stay
Comments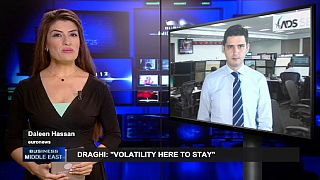 Daleen Hassan – euronews:
Welcome to business Middle East. In this episode we look at the impact of the European Central Bank's recent meeting, and in 'Business Snapshot' OPEC says it's optimistic there'll be no change in the oil production ceiling.
The markets were caught off-guard after European Central Bank President Mario Draghi's optimistic remarks about the quantitative easing program, which is underway.
Draghi's cautious tone reflected negatively on European bonds which rose after he warned of continued market volatility.
The euro also saw a significant hike last week. We will discuss the causes of that in a moment but first let's get more detail.
***
The European Central Bank kept interest rates unchanged at 0.05 percent. Last week, ECB President Mario Draghi seemed optimistic about the progress of the quantitative easing program. In his statement, Draghi cut inflation expectations and told markets to get used to volatility. However, he said he was confident that the eurozone recovery was going well .
"Recovery is on track exactly according to our projections and however we had expected stronger figures and in other hand all survey indicators and other data show that domestic demand in the euro area remains strong," said Draghi.
But the ECB chairman's comments caused a rise in European bond yields, mainly German government bonds, which climbed to their highest levels of the year. Those bonds are considered among the safest asset classes.
The euro rose against the dollar to reach 1.1380 last week, its biggest rise since Mid-May (18 May 2015)
Launched in March, the ECB's massive bond-purchasing program aims to purchase €60 billion of bonds a month until at least September 2016.
Daleen Hassan – euronews:
For more analysis of the market reaction, joining us is Nour Eldeen Al-Hammoury, the chief market strategist with ADS Securities in Abu Dhabi.
In March, we were talking about the parity of the euro and dollar. Last week we saw a significant euro spike, how do you interpret this? What are the upcoming trends?
Nour Eldeen Al Hammoury, ADS securities in Abu Dhabi:
Yes, we note that talk of euro parity with the US dollar might not come as fast as the market wanted. We said at the time that the US economy was likely to slowdown, which would lead the Fed to wait longer before raising rates. In the meantime, the euro is likely to continue trading in its current range due to the Greek question and the uncertainty about Federal Reserve policy.
Daleen Hassan – euronews:
If bond yields continue to rise, do you expect an intervention by the European Central Bank in order to increase the quantitative easing programme?
Nour Eldeen Al Hammoury, ADS securities in Abu Dhabi:
We believe that the ECB will try to intervene but not through adding more liquidity to the QE programme. The ECB may start to intervene following Draghi's remarks, which will likely help calm the bond market. If the ECB had failed to do so, then the ECB may have added more liquidity, but this is unlikely for the time being.
Daleen Hassan – euronews:
Ok Nour stay with us for Business Snapshot.
***
As expected, OPEC has maintained its current oil production ceiling of 30 million barrels per day. Saudi Oil Minister Ali Al Naimi seemed very satisfied with the decision and hinted that the oil price wouldn't hit 100 dollars a barrel again until December.
OPEC's latest meeting concluded last Friday, with member states agreeing to extend the current oil production ceiling until the next meeting on the fourth of December.
OPEC leaders, led by Saudi Arabia, confirmed that there was no need to change the current strategy to invigorate weak oil consumption and curb the US shale oil boom.
Oil prices fell last week to levels of $58 a barrel and were influenced by a statement by Abdullah Salem El-Badri, OPEC president during the closing session.
"The reality now is that we cannot have 100 dollar oil anymore. We have – this is a cycle – we have less value for our barrel," he said.
Daleen Hassan – euronews:
Nour in Abu Dhabi, despite the expected results of the OPEC meeting, prices fell. How do you see the market acting until the fourth of December?
Nour Eldeen Al Hammoury, ADS securities in Abu Dhabi
Well Daleen we are quite far away from 100 dollar barrel levels but we now need to look at two important upcoming events. First the Fed decision and second the potential nuclear deal between Iran and the major world powers.
So prices may trade within a tight range or we might see some fluctuations.
Daleen Hassan – euronews:
Thank you Nour
That all for now , you can share your comments and suggestions via our Facebook page, Euronews Business. Thanks for watching, have a nice week.