What now for Turkish-EU relations?
Comments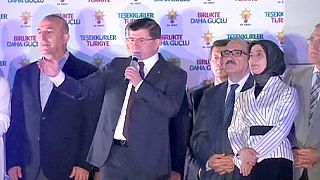 Turkey's move towards closer ties with the EU has all but ground to a halt under Erdogan's leadership.
The Turkish president repeatedly said that the country doesn't need the bloc during the election campaign.
Accession talks with Ankara have long remained frozen, largely due to differences between both sides over the issue of Cyprus, an EU member country of which one third is under military occupation by Turkey.
Brussels has also been worried by President Erdogan's increasingly authoritarian style of leadership.
It is hoped that the loss of the Justice and Development's parliamentary could provide fresh momentum to those talks.
"We believe that the coming period offers opportunities for further strengthening both the EU-Turkey relationship as well as cooperation," an EU spokeswoman said.
It will be seen as a personal blow of the president, who took centre stage during the campaign.
In doing so, Erdogan sidelined his successor as prime minister: Ahmet Davutoglu, Turkey's former foreign minister.
The success of the pro-Kurdish Peoples' Democratic Party could also spell the end of President Erdogan's plans to secure more powers.
What does it mean for EU-Turkish relations? Euronews' Gulsum Alan asked Marc Pierini, an ex-EU ambassador to the country now of Carnegie Europe for his take.
"I think it's important to say here is that these elections do not change two fundamentals: Turkey is economically anchored in Europe, in terms of trade, investment, and technology," said Pierini
"Secondly, in terms of security, Turkey is anchored to the West and to NATO. That is a reality that will not change anytime soon and must be taken into account."