Convicted killers use power tools to escape maximum security prison near Canada
Comments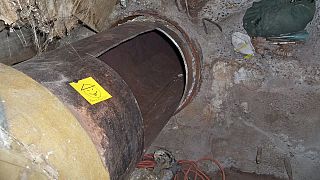 In an audacious escape, that has been widely liked to the plot of a Hollywood movie, two detainees have broken out of a maximum security New York prison.
State police and other law officials have begun an expansive search; setting up road blocks, monitoring from the air and searching door-to-door.
The police have vowed to leave "no stone unturned" in looking for the escaped convicts who they described as dangerous.
New York is offering 100,000 USD (89,761 euro) reward for information leading to their capture.
Richard Matt, 48 and David Sweat, 34 were found to have escaped from Clinton Correctional Facility in Dannemora on Saturday morning.
Today we announced $100,000 reward for information leading to the arrest of escaped inmates: http://t.co/wBLO7mU9aqpic.twitter.com/iPQSR2MVyV

— Andrew Cuomo (@NYGovCuomo) June 7, 2015
It is the first escape from the facility, which is only 30 km south of the Canadian border, since 1865.
The two men, in adjoining cells, used power tools to drill holes though walls to break out of them. They then went through a meandering series of narrow catwalks and tunnels before breaking through steel to clear the prison grounds and eventual surfaced via a manhole in a nearby street.
They left behind clothes in their bed to make it look like they were still there a note taunting their jailers saying "have a nice day".
It remains a mystery how the men were able to firstly acquire power tools in the first place and then how they used them without being detected.
New York State Police Major Charles Guess said: "We presume that they may have had access to a vehicle as well as they may have had assistance in their escape effort."
"This is a crisis situation for the state & these are dangerous men. Please do your duty as a NY'er & pass on any information you may have."

— Andrew Cuomo (@NYGovCuomo) June 7, 2015
On hearing of the escape New York State Governor Andrew Cuomo rushed to the location and retraced their steps all the way
The governor called the escape an "elaborate" and "sophisticated" in an interview with ABC's "Good Morning America" but while many may see a certain glamour in the prison-break the men themselves were anything but.
Ricard Matt was serving 25 years to life for kidnapping and dismembering a man.
David Sweat was serving a life sentence without the possibility of parole for killing a sheriff's deputy, he's said to have shot him 22 times.
Deputy Sheriff Kevin Tarsia's father, who is still haunted by his sons death, said news of the escape stirs painful memories.