World leaders set out agenda for G7
Comments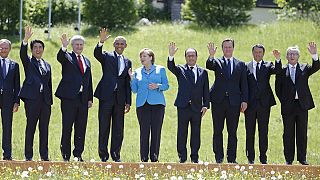 The leaders of the world's top industrialised nations are gathered in Bavaria for the G7 summit where the Ukraine conflict has been high on the agenda.
German Chancellor Angela Merkel welcomed the elected heads of the United States, Canada, France, Britain, Italy and Japan along with the European Council and European Commission.
US President Barack Obama said:
"We're going to discuss our shared future, the global economy that creates jobs and opportunity, maintaining a strong and prosperous European Union, forging new trade partnerships across the Atlantic, standing up to Russian aggression in Ukraine, combating threats from violent extremism to climate change."
Russia has not been invited to the 41st annual summit as a result of its annexation of Crimea last year.
The Japanese Prime Minister arrived fresh from a visit to Ukraine where he spearheaded the global efforts to find a peaceful solution to the problem.
British Prime Minister David Cameron said that all nations should hold firm on sanctions against Russia.
He also called for a trade deal between the European Union and the United States to be agreed as soon as possible and urged the nations to take a leading role in combating corruption in the wake of the FIFA scandal.
Why world leaders must show the same courage & determination that exposed FIFA to tackle corruption around the globe: http://t.co/IhZAt6tny8

— David Cameron (@David_Cameron) June 6, 2015
European Commission President Jean-Claude Juncker spoke of his opposition to Greece leaving the Eurozone.
"I continue to rule out a 'Grexit'. I would like to emphasise the fact that I rule it out because it is something I do not want because I cannot predict what the consequences would be," he said.
Angela Merkel has pushed for limiting global warming to below two degrees.
The Chancellor wants countries to commit to the Green Climate Fund, which is aiming for 100 billion dollars (90 billion euros) by 2020.
Read my full press statement ahead of the #G7 summit here http://t.co/osdW9V5A7l

— Donald Tusk (@eucopresident) June 7, 2015