Early election warning if Greece's creditors refuse to soften terms
Comments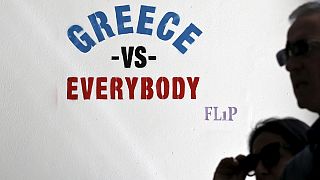 Far-left factions within Greece's government have said early elections may be called if international lenders do not soften their terms for a cash-for-reforms deal.
The warning came from Deputy Social Security Minister Dimitris Stratoulis, a hardliner within the governing Syriza party, as Athens continues negotiations with its international lenders.
Earlier Athens postponed a key debt payment of 300 million euros to the International Monetary Fund, pledging to bundle four payments due this month to a single 1.6 billion euro lump sum on June 30.
This is also the day that the bailout deal with the EU and the IMF runs out with negotiations far from reaching a conclusion.
The German Chancellor Angela Merkel said on Thursday: "The vote of three institutions will carry significant weight for every member state, but of course in the meantime there is continual feedback from the member states.
"On the one hand there are the Greek negotiating partners but on the other hand the Eurogroup must decide at finance minister level and of course that will be voted on by the governments.
"We are in the middle of that process and now we must wait a bit longer."
The Greek Finance Minister Yanis Varoufakis said the austerity measures imposed upon them only drag out the debt crisis as they quash much-needed growth.
"This liquidity crisis is politically engineered by our creditors to try to squeeze us into effectively perpetuating this debt-inflationary crisis.
"This nation, this country, a different government of course, they have been adding bad debt on existing bad debt, on conditions of austerity that reduce the incomes from which those bad debts will have to be repaid."
Some of the key points in the negotiations are that the creditors want pension cuts, a slimmed down civil service, VAT reform and fewer tax rebates.
Athens, meanwhile, wants lower primary budget surplus targets of 0.8 percent this year and 1.5 percent for 2016, while creditors are asking for 1 percent and 2 percent respectively.