Solar Impulse makes unscheduled stop in Japan
Comments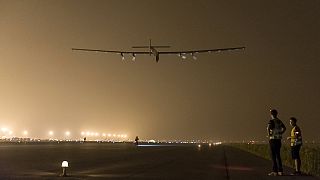 Poor weather has forced Solar Impulse 2 to make an "intermediate landing" in Japan.
The solar-powered plane will wait for better conditions above the Pacific before continuing to the US state of Hawaii.
It is part of an attempt to fly round the world without using fossil-derived fuels to promote green energy.
You may follow the progress of the journey at solarimpulse.com


On my way to nagoya disappointed for not continuing but very thankful to the Japanese authorities for their support pic.twitter.com/G4GfXpPumU

— André Borschberg (@andreborschberg) June 1, 2015
Former fighter pilot Andre Borschberg is alone at the controls for the entire 8,200-km flight from Nanjing to the US state of Hawaii, the toughest leg of its marathon adventure.
Borschberg seemed undaunted by the challenging Pacific flight.
"I wouldn't leave if I had doubts. So I'm very, very confident. I know the situation would be different compared to the one we know today, but I think we have the tools to adapt , we have the team to identify where to go, so I feel really confident about making it to Hawaii," he told CCTV hours before the flight.


#Flight7 as if you were in the cockpit with andreborschberg</a> on <a href="http://t.co/JIj9tI1H8T">http://t.co/JIj9tI1H8T</a>! Connect now! <a href="http://t.co/C8lO08Ykim">pic.twitter.com/C8lO08Ykim</a></p>&mdash; SOLAR IMPULSE (solarimpulse) June 1, 2015
The plane runs on solar cells which are powered by the sun in the daytime and lithium power batteries by night.
The aircraft has a wing span larger than a jumbo jet, but weighs around the same as a family car.
Maximum speed is 140 km/hr. Cruising speed by day is 90 km/h, and 60 km/h at night to save power.


First sunset over the sea of japan with solarimpulse</a> <a href="http://t.co/QTVMKUYSYB">pic.twitter.com/QTVMKUYSYB</a></p>&mdash; André Borschberg (andreborschberg) June 1, 2015