Dozens killed in Syrian air force 'barrel bomb' attacks, say opposition
Comments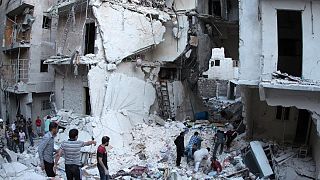 Around 60 civilians were killed and dozens wounded in a Syrian air force raid on Saturday on a town held by ISIL militants in the north of the country, according to a foreign-based monitoring group.
The Syrian Observatory for Human Rights which opposes President Bashar al-Assad, says Saturday's strike on al-Bab near Aleppo used barrel bombs: steel drums full of shrapnel and explosives.
The president denies the air force uses such devices.
The opposition group, which gathers information from sources on the ground, says follow-up attacks on Sunday have claimed more victims.
30 killed and wounded by barrels bombardment targeting areas of al-Bab city for the second day http://t.co/vc4Qoec89j

— المرصد السوري (@syriahr) May 31, 2015
Also on Saturday, another Syrian air force raid in a rebel-held part of Aleppo killed at least 12 civilians, the Observatory said.
The same organisation claims the self-proclaimed Islamic State has blown up a major prison complex in Palmyra.
The jail known as Tadmur was said to have been empty at the time.
ISIL announced the explosion on social media.
The prison was associated with brutality under the Assad regime. A massacre of more than 1,000 prisoners is said to have taken place in 1980 after an assassination attempt on the then President Hafez al-Assad.
It's thought many Syrians may welcome the jail's demolition but there are warnings that evidence of human rights abuses could have been destroyed.
One #IS action that many Syrians may actually praise (or want to do themselves) – the destruction of #Tadmur Prison: pic.twitter.com/G8m9JdSsL4

— Charles Lister (@Charles_Lister) May 30, 2015
The prison is not located near the central Syrian town's ancient monuments, which it's feared could be destroyed by the militants.
But so far the fighters are not thought to have harmed the 2,000-year-old ruins.