Turkey elections: Pro-Kurdish party puts pressure on Erdogan
Comments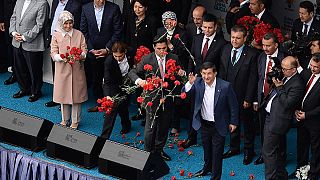 Campaigning for Turkey's parliamentary elections has entered its final week.
For President Recep Tayyip Erdogan, an event on Saturday celebrating the Ottomans' conquest of Istanbul was a chance to rally support for the ruling AK Party, which he founded.
While constitutionally banned from party politics as head of state, Erdogan has nonetheless delivered podium speeches around the country in recent weeks ahead of the June 7 election.
He wants the Islamist-rooted AKP to win a big enough majority to change the constitution and hand him greater powers, within a presidential system.
Although opinion polls suggest the party may struggle to do so, one AKP supporter, who spoke to euronews at the rally, needs no convincing.
"The AK Party has been in government for 12 years and it's powerful. In 90 years of this republic, no other party has reached out in such a way to Kurds, Alawites and others," he said.
Campaigning nearby, however, the pro-Kurdish Peoples' Democratic Party or HDP, hopes to cross the 10 percent threshold needed to enter parliament.
And by taking seats from Erdogan's party, it could wreck the AKPs hopes of forming a majority government.
"We don't want the AK Party to rule alone again," one HDP supporter told euronews.
"If they become a one-party government…they will pass whatever laws they want. They'll write the constitution as they please… So we must overcome the threshold."
Accused by opponents of links to the banned PKK Kurdish militant group, the
HDP now proudly displays the Turkish flag – hoping to appeal to all those who seek a strong opposition.
Our correspondent in Istanbul, Bora Bayraktar, says: "With a week to go, parties are playing their last cards in Istanbul which has the biggest number of voters. On the one hand, the HDP, seeking to pass that threshold. On the other, the AKP which wants to rule alone. The two parties' supporters, meeting in nearby squares, will determine the fate of Turkey."