Turkey's political parties seek crucial votes abroad ahead of general election
Comments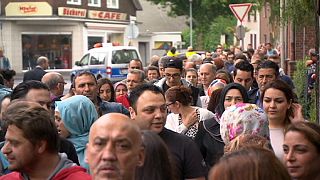 Turkey goes to the polls in a general election next weekend, on Sunday June 7th, but for many Turkish citizens living abroad the ballot has already taken place. They had until Sunday May 31st to vote.
Votes cast abroad will decide the outcome of these elections
It is the first time foreign-based Turkish people have had the right to vote in a parliamentary ballot, although they were able to vote in last year's presidential election.
Germany, Turkey's election battleground
With 2.8 million Turkish people living around the world and eligible to vote, half of them – 1.4 million – live in Germany alone. The total number of Turks in Germany is well over three million.
The Turkish population is at its most dense in Cologne, in the state of North Rhein Vestfalia.
In the 2014 presidential election only 18 percent of Turkish voters living abroad cast their vote. In the general election the figure was anticipated to be about 30 percent – which could still amount to around a million votes.
In Germany, where about a third of Turkish people are Kurds, a new Kurdish coalition, the People's Democratic Party (HDP), is attracting widespread support.
"The People's Democratic Party has become a mosaic of communities, a mosaic of faiths. Armenians, Syriacs, Assyrians, Keldanis, Yezidis, Sunnis, Alevis can all express themselves, they can find themselves here," said a Turkish Yezidi man.
"Votes cast abroad will decide the outcome of these elections, whether the ruling AK Party wins a majority or not, and whether the HDP passes the 10 percent threshold (to get into parliament)," Euronews correspondent Gizem Adal reported from Germany.
Party leaders visit from Turkey
Aware of the importance of potential support among foreign-based Turkish voters, several parties kicked off their campaigns in Germany.
In early May the Prime Minister Ahmet Davutoğlu visited Dortmund trying to drum up support for the Justice and Development (AK) Party, of which he is the leader.
Other party leaders also campaigned in Germany, from the Republican People's Party (CHP), the Nationalist Movement Party (MHP) and the People's Democratic Party (HDP)).
Foreign-based voters have now been promised special status for their districts.
Representation in the Turkish parliament
"Our prime minister has promised that once the new government is formed, its first act will be to set about declaring regions abroad as electoral districts," said
Süleyman Çelik, Head of the Union of European Turkish Democrats (UETD).
The UETD was founded in Germany in 2004 as a non-partisan interest group for the Turkish government and ethnic Turks living in Europe. It has been described in practice as a lobby group to rally support for the ruling AK Party under President Recep Tayyip Erdogan, previously the country's prime minister.
The main opposition Republican People's Party's (CHP) Deputy Chairman Ercan Karakaş said it had proposed a draft law on the issue to the Turkish Parliament but it was rejected by the AK party.
"These people can't bring their problems before the Turkish parliament. Direct representation is very important. We put forward a proposal which the ruling party rejected. But now it is on their agenda and they say they will declare these regions as electoral districts. But if they'd supported us it would have been done before the election and turnout would have been higher," Karakaş said.
"Let's say 1 percent comes from here and 1 percent is missing there, these votes can help fill the gap. That's why the election results abroad are important, especially regarding this electoral threshold issue."
Kurds and the wider world
Karakaş added that he thought votes cast abroad could help the Kurdish coalition People's Democratic Party (HDP) reach the 10 percent electoral threshold.
"Kurdish people are the most organised among immigrant communities. More than 1.5 million Kurds live in Europe and most of them are in Germany," said Yüksel Koç, Germany's Elections Coordinator for the People's Democratic Party (HDP).
"We believe we will be the first party in Europe in these elections. I repeat: we are competing with the AK Party in Europe. If the electoral threshold is not passed, of course people will demand their democratic rights."
For the HDP, the election results will have an impact well beyond Turkey's borders, affecting Europe and the Middle East.