Stranded Yemenis return home as UN peace talks are announced
Comments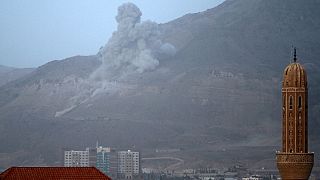 With peace talks on the horizon a few of the thousands of Yemenis stranded abroad have made it back to the capital Sana'a.
Two planes: one from Egypt and one from India, arrived on Thursday.
Daily flights are now planned until the end of the month providing relief for those stranded after the Saudi-led coalition imposed an air and sea blockade.
One unidentified citizen spoke of the nightmarish conditions she endured in Egypt:
"All 35 of us were scared in a room, without oxygen, every day we cried and there were four to five cases of illness. There were children among the ones who had heart problems and cancer and all kinds of things."
Meanwhile the United Nations announced that peace talks will begin on May 28 in Geneva.
It is not yet clear who might represent the warring factions.
The President of the internationally recognised government of Yemen, Abed-Rabbo Mansour Hadi, has been in exile in Saudi Arabia since the Houthi rebels overran the capital in a land-grab last year.
He expressed surprise at the announcement of peace talks claiming he had not received an official invitation and it is too short notice.
There is also the issue of Iran which has been accused of aiding the Shi'ite Musim rebels.
A spokeman for Saudi Arabia said:
"There is no place for Iran in the consultations in Geneva. They have not been playing a constructive role, and as such cannot be awarded by having a seat at the table."
Tehran denies the allegations and has announced it will allow one of its ships carrying 2,500 tonnes of food and medical supplies to be inspected by the UN in Djibouti before docking at the Houthi controlled Hodaida port.
The voyage had threatened to escalate a regional confrontation over Yemen, in which Saudi Arabia and its Sunni Muslim allies have carried out almost two months of air raids on Houthi fighters.