Lorenzo leads from lap one to conquer Le Mans
Comments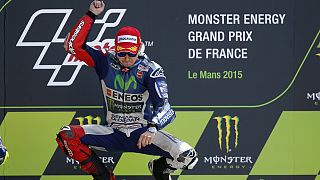 Euronews speed freak, Portuguese journalist Bruno Sousa, guides us through the twists and turns of the French MotoGP at Le Mans.
Hello and welcome to Speed, Jorge Lorenzo has joined legends Mick Doohan and Giacomo Agostini as the only speedsters to win the French MotoGP four times in the top category.
Just like last time out in Jerez de la Fontera, the Spaniard dominated and victory was never in doubt.
Jorge Lorenzo pounced on the poor start made by Marc Marquez on pole passing Andrea Dovizioso in the process to claim the lead on lap one.
It was an exhibition of flawless riding by Jorge Lorenzo on his way to a second consecutive MotoGP victory.
He kept his nose in front of the doctor on his tail as the championship leader Valentino Rossi continues to put pressure on his younger rivals by finishing in second place.
Andrea Dovizioso finished in third place.
A bad day on the bike for Marc Marquez he came fourth after starting on pole.
Lorenzo now moves into second in the championship table, 15 points behind Rossi.
The next race in the 18-leg MotoGP season is at the Mugello circuit in Italy on the last day of May.
What now for Dani Pedrossa?
After finishing 6th in the opening race of the season in Qatar, Dani Pedrosa announced he was to undergo surgery on his right arm. After being sidelined for three Grand Prixs, he's back but far from his best.
He was plagued by a forearm injury all through the 2014 season and underwent surgery to repair the problem. However, the injury flared up again in the opening MotoGP race of the season and Pedrosa was back in hospital.
He is now back in the saddle, but not for long, he lost control on the second lap at Le Mans, but remounted and finished the race in 16th place, not the kind of return he wanted, but he did complete the race.
"It's important to be fit to try and win races and I hope now that my physical condition is better and allows me to ride in a better way. But we still have to ride the bike for a number of GPs to see where we are," he said.
A Blast from the Past
Since being built in 1967 the Bugatti circuit in Le Mans has become an iconic motor sports venue. A lot has changed in forty five years but the French Grand Prix is always a great occasion.
On May 17, 1970 thousands of fans headed to the Bugatti circuit at Le Mans for the second race of the season. Then as well as now the French Grand Prix is a magnate that draws motorcycling enthusiasts from across the globe."
Having won every race he took part in between 1968 and 1970, it was the man in form Giacomo Agostini who lived up to his billing and finished 48.3 second advantage over Ginger Molloy.
The 15-time world champion went on to win the French Grand Prix four times in his glittering career.
Big is not always best at Le Mans, there is a host of talented young riders on show. We leave you with Thomas Luthi in action in Moto 2 and Romano Fenati in Moto 3. See you next week.