Esther Duflo wins Princess of Asturias Social Science prize
Comments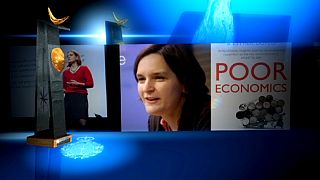 The 2015 Princess of Asturias Social Sciences prizewinner is French economist Esther Duflo.
Born in 1972 in the relatively short time since clinching her PhD at MIT, where she was immediately appointed Assistant Professor of Economics, she has co-founded the J-PAL group that studies poverty and became one of MIT's youngest tenured academics aged 29 in 2002.
As Professor of Poverty Alleviation and Development Economics at MIT she has, along with others, been a driving force in advancing field experiments as an important methodology to discover causal relationships in economics.
She focuses om microeconomic issues in developing countries, including household behaviour, education, access to finance, health, and policy evaluation.
Britain's "The Economist" considers her one of the top eight young economists in the world, and in America the magazine Foreign Policy has her in its list of the world's top 100 thinkers. In 2011 Time magazine put her in the world's top 100 most influential people.
Her most recent book is 2011's "Poor Economics" which she co-authored with longtime collaborator Abhijit V. Banerjee. It was widely admired.