Google hails safety record as self-driving car crash data published
Comments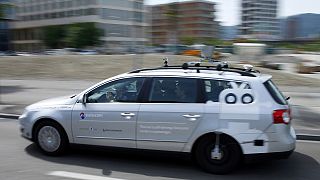 The first quantifiable data for traffic accidents involving self-driving cars have been made public and appear to offer promising news for companies pushing the project.
The State of California says that four of the 48 driver-less cars for which it issued test permits have been involved in accidents.
While California's Department of Motor Vehicles does not publish details of accidents, the owners of those four cars – namely Google and car parts supplier Delphi – claim none of the accidents were caused by their own vehicles. Such a defence of their safety record is perhaps to be expected from companies invested in a self-driven future, but the lack of injuries sustained in those four accidents does serve, so far, to reinforce their potential security benefits.
Yesterday, the head of Google's self-driving car project, Chris Urmson, blogged that Google's fleet of twenty or so cars has driven almost a million miles without human intervention in the six years since the project started. Urmson says there have been 11 accidents, with no consequent injuries and only light damage sustained. "Not once," he adds "was the self-driving car the cause."
The self-driving cars are not only smugly safer in statistical terms, they are also spying (and pouring scorn) on human driving behaviour. The blog boasts:
"Our safety drivers routinely see people weaving in and out of their lanes; we've spotted people reading books, and even one playing a trumpet. A self-driving car has people beat on this dimension of road safety. With 360 degree visibility and 100% attention out in all directions at all times; our newest sensors can keep track of other vehicles, cyclists, and pedestrians out to a distance of nearly two football fields."
A consumer watchdog in California has nonetheless asked Google to make public all the details of the accidents involving their self-driving cars.
Meanwhile a Swiss telecoms company has become the latest firm to dive into the self-driving project. Swisscom unveiled an autonomous VW Passat (see main photo above) to the press on Tuesday that is in the middle of a 10-day test drive around the streets of Zurich, albeit with two human passengers at any given time.
Swisscom says it is not trying to get into the auto-making market but rather wants to collect data to understand the implications of this up-and-coming mode of transport on the digital communications network.