Booze review: OECD report reveals the water of life's lethal data
Comments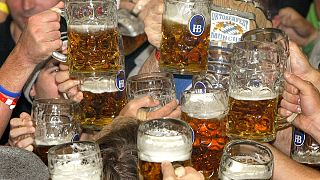 It was Frank Sinatra who said, "alcohol may be man's worst enemy, but the bible says love your enemy." It seems that many have taken that motto to heart, and a new report from the OECD shows that overall alcohol consumption is falling in developed countries, but that risky drinking is on the rise.
Alcohol is now responsible for a greater proportion of deaths worldwide than HIV/AIDS, violence and tuberculosis together
We've broken down some of the most interesting points in the report below.
An average adult in an

OECD

country consumes 9.1 litres of pure alcohol a year. That is the equivalent of just over 300 large glasses of wine or about 100 bottles, which would be about two bottles a week.
Austria, Estonia and France reported the highest consumption of alcohol, with 12.0 litres or more per adult per year in 2012.
The majority of alcohol is consumed by the heaviest-drinking 20% of the population. In most countries, the latter drink between 50% and 75% of all alcohol, and up to over 90% in Hungary.
On average, accross 20

OECD

countries, the proportion of children who had experienced drunkenness by age 15 increased from 30% to 43% (boys) and from 26% to 41% (girls) between 2001 and 2010.
People with more education and higher socioeconomic status (

SES

) are more likely to drink alcohol. However, in general less educated and lower

SES

men, as well as more educated and higher

SES

women, are more likely to indulge in risky drinking. That is drinking a weekly amount of pure alcohol of 140 grams or more for women, and 210 grams or more for men.
Men are more likely than women to die from alcohol-attributable deaths. For males, the figure is 7.6% of deaths, with injuries as the main cause, versus 4.0% for females, mainly cardiovascular diseases.
Harmful consumption of alcohol rose from eighth to fifth leading cause of death and disability in the world between 1990 and 2010. It is now responsible for a greater proportion of deaths worldwide than

HIV

/AIDS, violence and tuberculosis together, according to a 2014

WHO

report.
Portugal, along with France, are the countries where wine is the largest share of the alcohol consumed.
The cost of alcohol dependence alone, in the European Union, was estimated in 2013 at 0.65% of

GDP

by a group of experts. So approximately 84,500,000,000€/year (2013 EU

GDP

was more or less 13 trillion euros).
In 2003 in the EU, the total cost of crime (police, courts and prisons, defensive and insurance and property damage) was on average

EUR

33 billion (from a range of 23-57 billion) and the cost related to traffic accidents caused by alcohol abuse was

EUR

10 billion (6-16 billion).
Turkey has the highest rate of unrecorded alcohol consumption among the countries studied at 29%. Unrecorded alcohol is, according to the

WHO

, "alcohol that is not taxed in the country where it is consumed because it is usually produced, distributed and sold outside the formal channels under government control."
Some historians argue that the switch to farming from hunter-gathering in Neolithic times was inspired by the desire to ensure a regular supply of grain for brewing.
Drinkers typically drink at least four times more alcohol than they admit. The French and Hungarians tend to downplay their level of consumption more than other

OECD

nationalities.
How much alcohol people drink vs how much alcohol people admit they drink pic.twitter.com/59j87LChqD

— Duncan Hooper (@DuncanHooper) May 13, 2015
On average a quarter of alcohol drunk in

OECD

countries is in beer, a third in wine and the rest from spirits and other drinks.
While drinking is bad for productivity at work, some evidence suggests that moderate drinkers may get higher wages than people who abstain from alcohol.
The maximum recommended alcohol consumption in Spain (40mg/week for men and 20mg/week for women) is twice as high as in the Netherlands.
In the past two decades alcohol consumption in Russia has risen about 60%, higher than any other

OECD

country.