NATO calls for investigation into Kumanovo violence in FYR Macedonia
Comments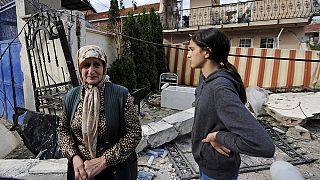 NATO has called for a 'transparent investigation' after the weekend's fatal battles in the former Yugoslav Republic of Macedonia (FYROM), between security forces and what the government said was a Kosovan-led terrorist group.
More than 20 people were killed and several homes were reduced to ruins in the clashes, after heavily armed police entered a mainly Albanian neighbourhood in the northern town of Kumanovo.
The government has said its forces wiped out a group of ethnic Albanian "terrorists".
A Reuters reporter described streets stained with blood, with at least eight houses damaged beyond repair.
Azem Brahimi's house was one of them, destroyed during two days of fighting.
"My son worked in Switzerland for 20 years to build this house. His car that cost 20-thousand Swiss francs has been completely destroyed. We built this house the way we liked it. And when I saw it was destroyed, the only thing that kept me going is when I saw that my children were alive, the bad thoughts went away," he said.
Explosions and automatic gunfire rattled Kumanovo through Saturday and into Sunday.
The government says 22 people were killed: eight police and 14 gunmen it alleges were rebel commanders from neighbouring Kosovo, bent on terror attacks.
Kosovo broke from Serbia in a war in 1999 and inspired an ethnic Albanian insurgency in FYR Macedonia two years later. NATO brokered a peace deal with the country on the brink of civil war.
Some residents have poured scorn on the official version of events.
"Terrorists didn't do this because there aren't any here. The real terrorists are Nikola Gruevski the prime minister, Snezana Jankulovska the interior minister, Ali Ahmeti the Albanian leader who signed a deal with government and their thieves," said local man Zekirja Ismaili.
Some ethnic Albanians in Kumanovo accuse the prime minister of trying to distract attention from a deep political crisis.
His nine-year tenure has been threatened by opposition accusations of illegal wire-tapping and abuse of power.
Dozens of people were arrested in the weekend operation, some of them taken to court handcuffed and in white jump-suits.
An estimated 30 percent of FYR Macedonia's two million people are ethnic Albanians. Tensions remain in the country, fuelled by poverty, isolation and the glacial pace of integration with the West.
Ambassadors of the United States, European Union, OSCE and NATO issued a joint statement saying they hoped the drama would prompt leaders "to pull together and engage in dialogue on all issues facing the country, including the protracted political crisis".
The former Yugoslav Republic of Macedonia's bid to join NATO and the EU, seen in the Balkans as a promise of jobs, prosperity and freedom of movement, is blocked by a long-running dispute with Greece over the country's name.