Mogherini asks UN Security Council to back EU migrants plan
Comments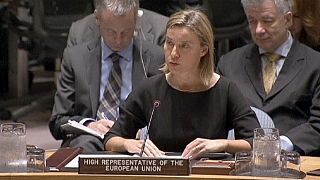 The European Union's foreign policy chief Federica Mogherini has gone to the United Nations Security Council seeking help for "saving migrants' lives" in the Mediterranean, and approval for the plan to use force against people smugglers.
The EU wants clear legal backing at international level for a draft resolution authorising military operations to inspect and possibly destroy traffickers' boats.
The move follows a dramatic rise in the number of people trying to cross to Europe from Africa – with a corresponding increase in the number of sinkings and deaths.
In her speech to the UN Security Council, Mogherini said there was an urgent need to face the tragedies unfolding in the Mediterranean.
"2015 looks even worse than the previous year. And considered that in 2014, 3,300 migrants died trying to enter the European Union by sea, which means that three out of four people who perished while crossing the border in the world, died in the Mediterranean Sea, three out of four," the EU's foreign policy chief said.
"It is not only a humanitarian emergency, but also a security crisis since smuggling networks are linked to and in some cases finance terrorist activities, which contributes to instability in a region that is already unstable enough."
The Guardian has reported that Britain has been drafting the resolution that would authorise the military mission. Diplomats from Italy, France, Lithuania and Spain are also said to be involved.
Russia and some African countries are said to be reticent about the possible use of force. Mogherini travelled to Beijing last week seeking support for the proposal amid fears that China and Russia could veto the resolution.
Libya has objected to the proposals, which were agreed by EU governments last month.
The measures include tripling funding to boost search and rescue efforts, tackling smuggling networks, and destroying vessels.
The increased funding has been welcomed, but the repressive measures have been criticised.
Amnesty International says in a new report that without alternative solutions, migrants and refugees could be trapped in Libya and exposed to serious human rights abuses.
Last month the EU's plan was attacked by independent UN human rights experts for an over-emphasis on security and repression.
The plan for military action has also been criticised by International refugee lawyer Guy Goodwin-Gill, who said desperate refugees and people traffickers would find ways around them.
"This is the trouble with so many of these short-sighted, short-term responses to the phenomenon of migration – the 'building fence' mentality, the 'use of military force' mentality – which does absolutely nothing to deal with the root causes of movement between states, and we have to engage long-term," he told BBC radio.
The European Union is to unveil a new European "migration agenda" on Wednesday, which is expected to call for a quota system of sharing refugees among the EU's 28 member states.