Macedonia police strike against 'armed group' sparks instability fears
Comments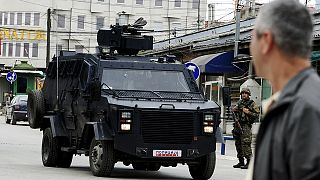 Macedonian police have launched an operation in the ethnically mixed northern town of Kumanovo against armed and uniformed men believed to be ethnic Albanians.
Video filmed showed an explosive device hitting a rooftop where the armed group is believed to have barricaded itself. It is unclear who the members of the group are or what aims they have.
At least 15 people were wounded, according to media reports from Macedonia and Bulgaria.
A Reuters photographer said special police units in armoured vehicles had locked down the town, around 40 km north of the capital Skopje, in an area that saw fighting during an ethnic Albanian insurgency in 2011.
Tensions have been on the rise in the country since the opposition blamed the ruling conservative coalition of a massive wiretap campaign.
An ethnic Albanian party is part of the ruling coalition, but extremists within the ethnic minority claim they do not enjoy the same rights as Slav Macedonians.
Last month an armed group claiming to be members of an ethnic Albanian rebel force took over a border post on the border with Kosovo and then withdrew from the area.