Iraqi Kurd leader Barzani wraps up visit to US
Comments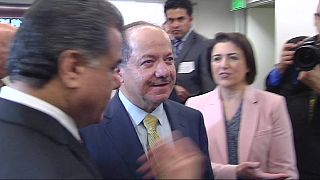 The president of Iraq's northern Kurdish region has been wrapping up a visit to America – his first in almost three years.
Massoud Barzani has met officials, including US President Barack Obama.
He has stressed that Kurds have no immediate plans to break away from the central government of Baghdad.
"At the present time, I don't think it's in America's interest or Iraq's interest or I would argue even in the Kurdish interest to have an independent Kurdistan," said Paul Bremer, former head of the US-led civilian administration in Iraq.
"I think there are enough moving parts in the region right now that, as the president suggested, this is something that probably has to wait."
The fight against ISIL militants in Iraq has also been on Barzani's agenda.
Speaking from Washington, euronews correspondent Stefan Grobe said: "President Barzani was hosted in Washington as a very successful ally in the fight against ISIL.
"Although the White House remains unsupportive of Kurdish independence, Barzani told us he still got the assurance that his Peshmerga forces will get all the weapons they need."