German tornado causes mass destruction
Comments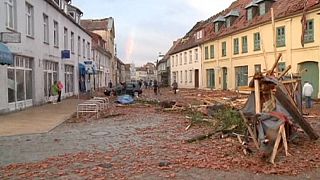 A tornado in the north of Germany has caused widespread damage.
A 26-year-old man in Hamburg was killed after debris fell on his car while his pregnant girlfriend was injured.
The fire service had to rescue three others from their vehicles and at least 30 people were injured by flying debris.
A fallen tree between Hamburg and Luebeck blocked the railway line in both directions and much of the public transport system was brought to a standstill.
The epicentre of the devastation was in Buetzow near Rostock in the very north of the country where local media reported winds of around 120 KPH.
Many roofs were torn away and a hospital had to be partially evacuated.
One observer said:
"I've never seen anything like this in my life, it is complete madness. Hundreds of trees have been overturned, completely uprooted, roofs ripped off, what can you say, madness. You don't experience something like this every day."
In some places cars were reportedly blown some 70 metres down the road and five container ships broke loose from their moorings and came crashing together.
The storm follows unusually warm weather in this part of Germany and forecasters predict more rain thunder and lightening to come.