"Death Everywhere" - report accuses Syria of bombing civilians
Comments
By
Euronews
with
AMNESTY INTERNATIONAL AND REUTERS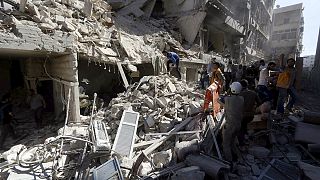 Syrian government forces are targeting civilians in barrel bomb attacks, committing what amounts to crimes against humanity.
That's the finding of a new Amnesty International report:https://www.amnesty.org/en/documents/mde24/1370/2015/en/ entitled " Death Everywhere " which looks at the country's protracted civil war.
#Syria war: 'unthinkable atrocities' documented in report on #Aleppohttp://t.co/2f3LnTEDKB

— Oula A. Alrifai (@OulaAbdulhamid) May 5, 2015
The bombs are oil barrels packed with explosives, fuel and metal fragments to cause the most damage.
In Aleppo, Amnesty says more than 3,000 civilians have been killed in bombardments during the last year.
Amnesty's Middle East and North Africa Programme Director, Philip Luther explains:
"The problem is sometimes that barrel bomb attacks hit the same place in so-called double-tap strikes, where actually there's a barrel bomb attack and then a second barrel bomb attack, 15 to 30 minutes later which kills those who try to rescue those killed in the first attack."
The bombing has forced hospitals and schools to move under ground.
Both sides are committing abuses
The Syrian government denies targeting civilians but the report goes on to accuse both government and rebel forces of committing torture and other abuses.
Amnesty is calling for the Syrian conflict to be referred to the International Criminal Court.
"Sheer terror and unbearable suffering" – new AmnestyOnline</a> report outlines crimes against humanity in Aleppo <a href="http://t.co/iPqn7Bg7Dc">http://t.co/iPqn7Bg7Dc</a> <a href="https://twitter.com/hashtag/Syria?src=hash">#Syria</a></p>&mdash; swimlittlefish (swimlittlefish) May 5, 2015
Syria's four-year-old civil war began in 2011 when a government crackdown on a pro-democracy movement led to an armed uprising. ISIL militants have taken advantage of the chaos to declare a caliphate in a swathe of Syria and Iraq.
The conflict has killed more than 220,000 people in Syria and uprooted some 7.6 million within the country. Nearly 4 million have fled to nearby countries.