Anchor's away for US-Cuba ferry routes
Comments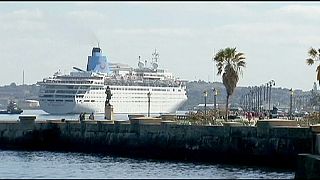 Florida ferry operators have Cuba in their sights, as the US has approved licenses to sail to Havana for the first time in 50 years.
Although the move has yet to win approval from Cuba, it is a further sign of the normalising of relations between the two countries.
It was certainly good news for those working at the Hemingway Marina in Havana.
"This is going to ease the flow of visitors, at a lower cost and with a great chance of bringing the Cuban-Americans, their family members, products, and merchandise," said Commodore Jose Miguel Escrich.
The news also went down well in Florida. Havana Ferries Partners said on their Facebook page: "This is a Historical event. Thanks to President Barrack Obama, to whom we are very grateful, for his leadership."
Back in 1959 people ferried back and forth between the US and Cuba daily with tourists soaking up the atmosphere and expat Cubans returning to visit relatives.
It's not quite anchor's away just yet as a few bureaucratic hurdles remain, but it's clear Obama's administration hope to do confine the isolationist approach that had defined US-Cuba relations to the past.