German rail's longest train stoppage strands and angers millions
Comments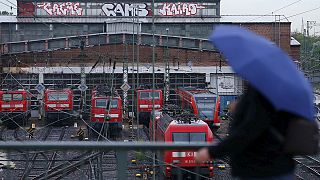 Rail passengers in Germany face one week of disruption after train drivers' union GDL called a seven-day strike.
It wants more pay and shorter hours for its drivers and the right to represent other workers.
The longest stoppage in the bitter dispute is set to continue until Sunday morning.
"We have managed to get around one-third of our long-term train services running again," said Achim Stauss, spokesman for rail operator Deutsche Bahn. "At some stations we have provided trains for people to sleep in, like here in Berlin, Munich, Cologne and Hamburg for customers we couldn't find hotel accommodation for."
Most of the 5.5 million passengers travelling daily had to find alternative transport. Normally bustling stations were oddly empty on Tuesday.
Passengers have been frustrated at the length of the strike.
"I don't understand this, from Tuesday to Sunday is too much. One or two days is okay but this is crazy," said one commuter.
"Well, I wanted to go to Italy for a week's holiday, but I'm not going to make it, and if I do it will be so late that I won't be able to get on the train to Italy," said another. "So I'm going home. I'll try again tomorrow."
Economists warned that the strike could cost Europe's biggest economy up to 750 million euros.
Chancellor Angela Merkel has urged the two sides to accept a mediator.