More than 3000 migrants rescued from Mediterranean on one day alone.
Comments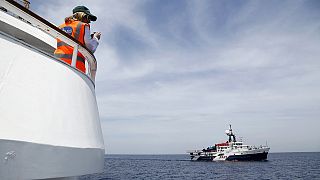 The Italian authorities say they rescued more than three thousand migrants attempting to cross the Mediterranean from North Africa on Saturday alone.
Improved weather conditions in the Sicilian Channel over the past few days has caused a surge in the number of people attempting to make the short but hazardous trip on overloaded boats.
Video supplied by the Italian Navy showed five incidents involving small boats such as fishing skiffs and inflatable dinghies being intercepted at sea.
Some 220 migrants were taken to Lampedusa, the small Italian island at the centre of this ongoing international phenomenon.
The authorities said the latest arrivals were almost all men from Sub-Saharan Africa.
For the short term at least they will be given food and shelter on the island.
European leaders have agreed to triple funding for naval searches in the Mediterranean but for the moment the vast majority of operations are still being carried out by the Italians.