Femen protest disrupts Marine Le Pen's May Day rally
Comments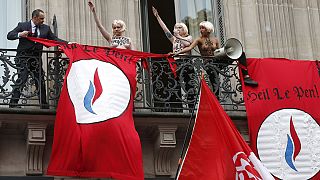 The annual May Day Front National rally in Paris had some unexpected intrusions on Friday.
It's quite a paradox when you call yourself a feminist and try to disturb a tribute to Joan of Arc
The first came when a protester from the Femen activist group was bustled away after jumping in front of party leader Marine Le Pen.
In her speech to supporters she again attacked French President François Hollande and his predecessor Nicolas Sarkozy.
"They've allowed massive immigration to install itself," she said, "they've underpinned the Islamic fundamentalist grenade".
On a nearby balcony three Femen women appeared, making Nazi salutes and bearing the slogans "Heil Le Pen" and "Stop Fascism" on their bare breasts, taking aback the Front National leader.
RIGHTNOW LE PEN's speech is interrupted by #FEMEN activists who appeared on the balcony with fascists banners &more suitable speech to #FN

— inna shevchenko (@femeninna) 1 Mai 2015
"Lots of surprises on this May 1," a visibly uneasy Le Pen said. "It's quite a paradox when you call yourself a feminist and try to disturb a tribute to Joan of Arc," she went on, referring to the 15th century French heroine who has been adopted by the far right as a nationalist symbol.
After about 10 minutes, four National Front security men seized the protesting women, who were later arrested.
The other unexpected intrusion came minutes earlier with the defiant appearance on the podium of Marine's estranged father.
Jean-Marie Le Pen faces a party disciplinary procedure after yet again minimising the importance of the Holocaust.
The 86-year-old former paratrooper trundled off stage without uttering a word and did not wait to listen to his daughter's speech.
The FN has been trying to capitalise on discontent with the ruling socialists over the economy and rising unemployment.
Marine Le Pen's eurosceptic, protectionist agenda has propelled her party into local and regional government. She aims to mount a serious challenge for the French presidency in 2017.
But her own family feud proves that despite her efforts to modernise the party, she has yet to banish completely the face of the Front National's far-right past.