Everybody is focusing on Taksim square
Comments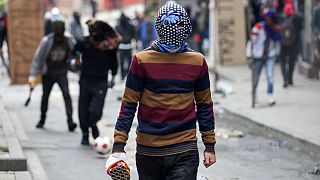 Turkish police have clashed with protesters defying a ban and attempting to march on Istanbul's Taksim Square.
Tear gas filled the air and water cannon was used to chase off protesters as thousands of police manned barricades and closed streets to prevent the May Day demonstrators from reaching the square, which was the scene of widespread protests in 2013.
Istanbul's governor said that around 203 people had been arrested.
It comes two months after parliament passed a controversial bill giving police more powers to crack down on demos.
Turkish President Tayyip Erdogan condemned the protesters actions saying:
"Everybody is focusing on Taksim square. If you insist on going there with 10,000 people and hold a rally, this is not a commemoration. This is creating chaos and we don't see good intentions here."
Critics say that President Tayyip Erdogan's government has become more authoritarian ahead of June elections.