Daniel Arnold scales Matterhorn in record time
Comments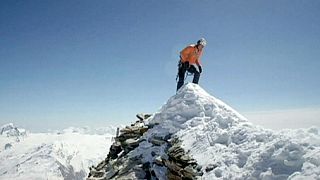 Mountaineering has had a dark week following the tragedy in the Himalayas but now Swiss climber Daniel Arnold has provided the sport with a welcome boost by breaking the record for the ascent of the Matterhorn.
He took on the 4,478 metre north face along the Schmid route,
attacking the final climb at Bergschrund and taking maximum advantage of the snow cover to gain height quickly.
Arnold, aged 31, already has the record for the Eiger which he set in 2011, and now he takes the Matterhorn record from the same man, fellow Swiss climber Ueli Steck, who he has beaten by 10 minutes with a time of one hour and forty-six minutes.
The town of Zermatt, which sits in the Matterhorn's shadow, is celebrating the 150th anniversary of the first ascension of the fabled peak.