The changing face of British politics? One week remains until the UK decides
Comments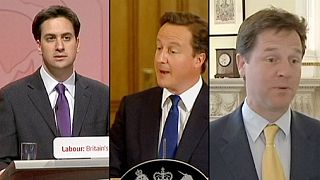 The face of British politics as we know it could be set for a makeover in one week's time.
Next Thursday (May 7), the UK goes to the polls in what is being hailed as the tightest election race in decades. And depending on the outcome, Britain's position in Europe could come into question.
The Conservatives
The most recent Ipsos-Mori poll puts the ruling Conservatives, under Prime Minister David Cameron, ahead with a five-point lead.
Tabloid The Sun, is backing the Tories, as the party is known. Cameron says he will organise an in/out referendum concerning the EU by the end of 2017 if he keeps hold of power.
Labour
Ed Miliband's Labour Party is ahead in other polls. The pro-EU leader says he's committed to staying in the Union.
He met TV personality Russell Brand this week – a man who actively encourages people NOT to vote – an effort, Miliband said, to engage with millions who may be on the fence.
UK Independence Party
There are no doubts at all about UKIP leader Nigel Farage's views concerning Europe. The love him or loathe him politician is determined Britain will be better off out of the Union.
But it's not looking hopeful for the beer-loving leader: a Lord Ashcroft poll shows he could lose in the battle for his desired constituency seat.
The Liberal Democrats
For five years, the Lib Dems have run a coalition government with the Conservatives. However, according to the Lord Ashcroft poll, leader and Deputy Prime Minister Nick Clegg is in danger of losing his constituency seat. Recent polls indicate the party as a whole will struggle to hold on to many of their seats on May 7.
The Scottish National Party
But, one party is very much on the up. Nicola Sturgeon's Scottish National Party is expected to do very well in Scotland, with some polls indicating they could take a clean sweep of the 59 seats up for grabs. With the polls so close, the SNP could be the kingmaker and become a force to be reckoned with.
Follow election night live from 10pm on May 7 on euronews.com