New Turkish Cypriot leader Akinci amplifies reunification resolve
Comments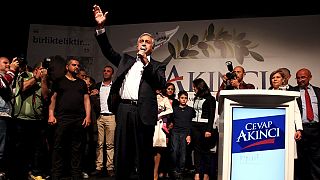 Hopes for reunification or at least closer ties and new momentum for the divided communities of Cyprus accompany the election of Mustafa Akinci as leader of the self-declared Turkish Republic of Northern Cyprus (TRNC). He campaigned on a promise of swift rapprochement with the Greek Cypriot Republic, which alone has maintained official recognition in the eyes of the international community ever since the island's violent division more than 40 years ago, leaving a UN-administered, largely abandoned buffer zone.
They know that I am going to act for the good of both peoples.
Cyprus gained independence from administration by the UK in 1960. Greek Cypriots — the majority — and Turkish Cypriots had also traditionally lived side by side under earlier Ottoman rule. Yet new power-sharing arrangements were strained by ambitions for union with Greece.
Following ten years of intercommunal violence, in 1974 the Cypriot National Guard, backed by the military then ruling Greece, attempted a coup. Turkey invaded. Operation Attilla seized the northern third of the island — a peace intervention, Ankara called it. In Athens, the junta collapsed.
Turkey kept a force of some 30,000 in place, and Cyprus was partitioned, displacing more than 200,000 Cypriots, most of them Greek. Importing settlers from Turkey, Ankara also heavily subsidised the northern enclave — all of this condemned under United Nations resolutions. The north declared statehood in 1983. Today the TRNC posts economic growth of 4% with around 900 million euros worth of stimulus from Turkey.
In a referendum in 2004, the Greek Cypriots massively rejected a UN settlement plan which the Turkish Cypriots had massively approved — of a two-state island united by federation, in time for the entry of Cyprus into the European Union on 1 May, 2004.
The standoff hampered Turkey's negotiations to become an EU member. Under international law, the TRNC is considered Republic of Cyprus territory occupied by the Turks by force.
Officially, the Turkish authorities support efforts to reach an agreement on reunification. The outstanding areas of dispute, however, include troop pullout, refugee returns, settler status and compensation.
Neither sanctions, EU membership, or even financial crises sparked progress.
The Greek Cypriot government was not inclined to compromise with the Turkish Cypriots, and Ankara, as a regional power, could pick its moment to cooperate.
But adding the discovery of hydrocarbons in Cyprus waters and Akinci's political stance makes observers wonder if, at last, Cyprus's moment for broad-based cooperation could be now.
We spoke to the newly-elected leader about his intentions.
Bora Bayraktar, euronews: "Congragulations on your landslide victory and becoming President of the Turkish Cypriots. Everybody is wondering what could change with this. We know the parameters of the Cyprus issue. Are you going to move outside these parameters? What is going to change?"
Mustafa Akinci, presidential leader of Turkish Republic of Northern Cyprus: "I have said that my policy will focus on solutions and confidence-building. This is about the Cyprus problem. But we also have domestic business to attend to. I represent a different approach in domestic affairs in relation to Turkey. I will be a president who is involved not in political party affairs but with the problems of the people. I will pursue an independent and impartial presidential model, keeping distance from all sides and dealing with everybody."
euronews: "There have been positive reactions to your election from the Greek side. What is your message to the Greek Cypriots?"
Akinci: "When I was elected mayor of Nicosia after the 1974 intervention, I was the first person to initiate the first bi-communal project on the island. Nicosia's old city lacked water pressure. With this project, it got a proper distribution system and a development plan for the city. Therefore, Greek Cypriots know that I am a person who has the understanding of cooperation for the good of both communities. Off course, they know that I will defend the rights of my people, but in addition to that they know that I am going to act for the good of both peoples.
"The Cyprus issue has stretched out for half a century. My hope is that, together with the Greek Cypriot leader, by determining the same vision we have together, we will leave a Cyprus for future generations to share the benefits of the island and not grief. I have hope for the younger generations. This island has 9,000 square kilometres. The two communities should share this land in a fair and just way."
euronews: "What about the concerns in Turkey about the rhetoric used during the election campaign?"
Akinci: "I haven't seen such concerns in Turkey yet. Turkish officials did what they should do. They did not interfere officially in the elections. That is rare in our history. The late President Denktaş used to say. "No candidate can win elections against Turkey's will,"and he was right at the time. But we are in different times now. In this new era everybody in Turkey and in the world has to accept the fact that the best person to lead is the one who was elected by his or her people."