Nepal: Eight million hit by quake as PM says up to 10,000 may have died
Comments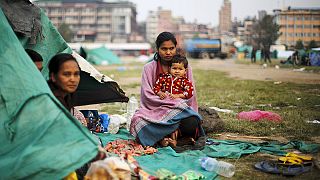 Eight million people have been affected by Nepal's devastating earthquake.
So says the United Nations, as more bodies are pulled from the rubble.
Up to 10,000 may have died according to the country's Prime Minister Sushil Koirala who has ordered intensified rescue efforts and appealed for foreign supplies of tents and medicines.
Officially, 4,349 deaths have been confirmed but figures are expected to rise as the scale of damage in remote rural areas becomes clearer, with many isolated villages thought to have been totally flattened.
If the death toll does reach 10,000, that would be even higher than the 8,500 killed in a massive 1934 quake, the Himalayan nation's worst disaster to date.
International aid has finally started getting through but distribution is slow.
Relief supplies have been arriving in the capital Kathmandu, including food, medical supplies and tents, but the authorities are struggling to deliver aid further afield.
A crush at the main international airport, where relief material and rescue teams are flying in while thousands of residents are trying to leave, has slowed the flow of aid.
Thousands continue to sleep outdoors amid fears of aftershocks in Kathmandu and elsewhere. Officials acknowledge they are overwhelmed by the scale of Saturday's disaster.