Badminton bad boy back on court
Comments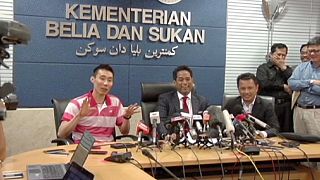 Lee Chong Wei, former badminton world number one, is set to return to the court after being handed a eight-month backdated ban by the Badminton World Federation.
The Malaysian has been under provisional suspension since November after testing positive for the anti-inflammatory drug dexamethasone during the world championships three months earlier.
The panel ruled the doping offence was not an attempt to cheat, but that Lee had been "negligent."
The 32-year-old can now plan his preparation for the Rio Olympics.
"I waited six or seven months now. I can play in the Sudirman Cup and SEA Games, but also very happy I can go back on the court. I want to thank all the media and all my fans."
Lee will be free to play from May 1 just in time to take part in Olympic qualification, which begins on May 4 and continues for a year.
He is one of Malaysia's favourite sporting sons, remains his country's top ranked player and was nominated last week for Malaysia's 2014 sportsman of the year award.