Nepal: Helicopters evacuate injured from Everest base camp
Comments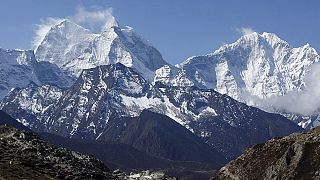 Both foreign climbers and their Nepalese guides were caught up in Saturday's massive quake. The tremor triggered avalanches, engulfing in particular Mount Everest's base camp.
Helicopters have now managed to ferry out some of th injured.
.
Belgian climber Jelle Veyt captured the moment when his group was caught as a wall of snow hit them.
Veyt described what happened: "There was a sort of cloud which caught me and I was surrounded by snow and ice and then I lay down on the floor and I had trouble breathing. I started to look for a tent I knew there was one in the corner. I managed to find the tent I crawled in and I helped to keep the tent straight and it lasted for a few minutes until the cloud passed."
At least 17 people have been killed in the avalanches on Mount Everest and once again that total may rise. Many families of the Nepalese guides have no idea if their loved ones are among the dead.
Survivors said many climbers were still on the mountain when aftershocks triggered a new series of avalanches on Sunday.
Tourism ministry officials estimate that at least 11,000 climbers, including about 400 foreigners, had been at base camp or on the ascent to the peak when Saturday's earthquake struck.