Banned from Poland, Russia's 'Night Wolves' bikers vow to reach Berlin
Comments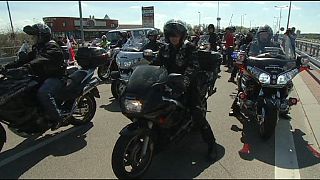 A group of ten Russian bikers, known for their nationalist views, have been blocked by border control as they tried to enter Poland.
The group, part of the "Night Wolves" bikers loyal to President Vladimir Putin, was taking part in a ride to Berlin to commemorate what they described as the Red Army's victory over Nazi Germany 70 years ago.
Border control officer Dariusz Sienicki outlined the situation:
"These people will not cross the border into Poland. Each of them will receive an individual decision denying them entry into Poland. The refusal has to do with the failure by these people to meet the conditions for entry and stay in Poland," he said.
Polish authorities had already declared their intention to turn the group away, citing its ties with Putin. Germany has declared a similar intention, saying any visas will be annulled at the border.
The German foreign ministry says that while the Night Wolves' planned parade through Berlin is legal, some of its leaders are "not pursuing legitimate aims."
Supporters of the group's plans have criticised the Polish authorities. Polish biker and film director Konrad Newolski is among those denouncing the decision to refuse entry.
"This is a stupid provocation, it's really stupid for us as Polish people. It's a very big shame that some bikers are trying to come to Berlin and they (Polish and German authorities) are making such a big problem. They are behaving as if the Third World War just started."
Some 50 members of the biker group left Moscow on Saturday (April 25) and say they are still aiming to arrive in Berlin by May 9.
However, its support of Russia's annexation of the Crimea peninsula has drawn heavy criticism from countries along the route and further afield.
The United States has blacklisted the Night Wolves for its 'participation' in the takeover and subsequent conflict in eastern Ukraine.