Russian pro-Putin bikers set off on controversial "Victory Ride" to Berlin
Comments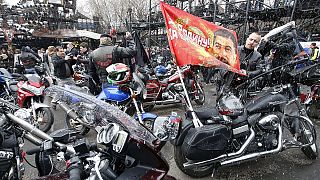 Russian pro-Putin bikers are revving up controversy, as they take part in what's described as a "Victory Ride" to Berlin.
The ride has been organised to commemorate the 70th anniversary of the end of World War II.
Members of "The Night Wolves" are among the riders – a group blacklisted by the US for taking part in Russia's annexation of Crimea.
"Twenty people set off from here. I think the convoy will become much bigger though. People will join us on the way," said Alexander Zaldostanov, leader of the club.
"Thirty-thousand Polish bikers have expressed their solidarity with us, their support."
From Moscow, the bikers plan to ride through Minsk and Brest, in Belarus, then through Poland and into Germany.
But Poland says it will not allow "The Night Wolves" to cross its border and enter the European Union.
Warsaw's foreign ministry has refused to grant visas, citing a lack of information about the ride. Moscow claims the decision is politically motivated.
The spat is likely to further strain bilateral relations – damaged by Russia's recent role in the Ukraine crisis.