Relics return home: Egypt receives smuggled antiquities from US
Comments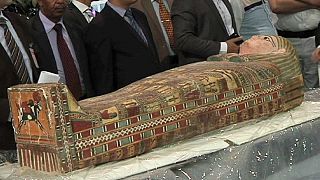 History returns home as 2.3million euros worth of smuggled antiquities arrived in back in Egypt.
Some 123 artifacts were seized by US customs as part of a five year investigation into international smuggling networks dubbed Operation Mummy's Curse.
One item, a 2,300 year-old sarcophagus was found in a garage in Brooklyn.
#ICE returns ancient artifacts to Egypt at @NatGeo Society http://t.co/wEJUCfXXgM#MummysCursepic.twitter.com/GNzmQHZS4Z

— ICE (@ICEgov) April 22, 2015
On receiving the relics, the Egyptian Minister of Antiquities Mamdouh Eldamaty issued a word of warning to the criminal gangs.
"Egypt is able to reclaim its antiquities from abroad and follow them anywhere in the world," he said. "Any relics that get out of the country illegally, we will retrieve them, including unregistered pieces such this one today."
The political upheaval in the wake of the 2011 uprising left the country's cultural heritage vulnerable to looting, despite the country's efforts to track the smuggling routes outside of the country, as euronews correspondent Mohammed Shaikhibrahim explains:
"With the return of these relics, Egypt has recovered a missing part of its great history, but there is much more to do to recover hundreds and possibly thousands of stolen relics and fight against smuggling which continues to this day."