Remembering Gallipoli, the grinding WWI battle to take the Dardanelles
Comments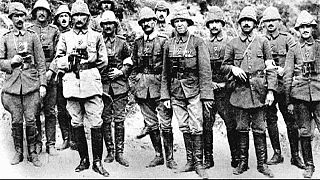 Soldiers' descendants have come to commemorate the British allied forces in WWI landing in Gallipoli, Turkey, 100 years ago.
The 25th April is known as "Çanakkale" in Turkish, or "Anzac Day", as Australians and New Zealanders spearheaded the campaign, taking brutal losses.
The Australian and New Zealand Army Corps (ANZAC) was a First World War army corps of the Mediterranean Expeditionary Force
Naval attacks also failed.
In eight months of fighting, many died on both sides: attackers and defenders.
Official histories vary in their figures, though by some estimates the allied and Turkish losses were roughly equal, at more than a quarter of a million on either side, including from sickness.
Out of the killing grew national consciousness; colonies became nations, the Ottoman Turkish Empire died, modern Turkey was born.
Officer and later reformist statesman Mustafa Kemal Atatürk is famously quoted as telling his men, down to their bayonets: "I do not order you to fight, I order you to die."
Later generations want to remember.
One visitor said: "The reason why I came here is because I wanted to see Gallipoli. I found out that my grandfather served here as an army chaplain, supporting the British troops. I was curious about the place. I'd read a lot about it."
Another explained: "It's just fascinating to see the location and be reminded, movingly, of the incredible loss of life on both sides. That's why we are here, to get a sense of history, a sense of what actually happened here."
The Turks well entrenched, the Allies exposed, winter also killed. Days of rain flooded and drowned men, and blizzards froze them. French soldiers also died by tens of thousands. Their cemetery is in Seddülbahir.
According to war historian Şahin Aldoğan, "Mutual respect and a kind of closeness developed in the fierce fighting of the battlefield, but as the years went by there was no more hostility. Ataturk even said, 'Your sons became our sons'. Today we see Australians and New Zealanders, British and all other nationalities who visit here as our friends and guests in this environment."
Suvla and Anzac were evacuated in stealth. The last British troops left Lancashire Landing at four of the morning on 8 January 1916, leaving so many others in the ground. British prestige was impaired by the failure to win passage through the Dardanelles.
Our correspondent Bora Bayraktar summed up: "In the first years parents came to Gallipoli to remember their loved ones. On the 100th anniversary of the war, grandchildren and all who are interested in history visit. The soldiers and memorials are not alone."