Auschwitz accountant 'morally guilty' for his work at Nazi death camp
Comments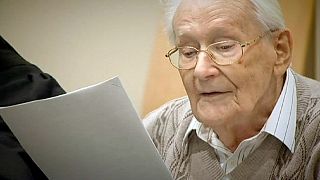 A 93-year-old former bookkeeper at Auschwitz has told a German court that he felt morally guilty for his work at the Nazi death camp.
Oskar Groening is accused of being an accessory to the murder of 300,000 people, although he did not personally kill anybody.
He was 21, and by his own admission an enthusiastic Nazi, when he was sent to work at Auschwitz in 1942.
SS sergeant Oskar Groening, referred to as 'the bookkeeper of Auschwitz', set to go on trial: http://t.co/xxRinGtpe4pic.twitter.com/zR4fZ8rkUl

— British Forces News (@ForcesNews) April 21, 2015
Groening told the Lüneburg court that it must determine his guilt in legal terms. He said he stands before the victims with humility and remorse.
Auschwitz survivor Eva Pusztai-Fahidi was in Lüneburg to attend the trial.
She said she survived the concentration camp when Dr Josef Mengele waved her to one side while her family was waved to the other side and subsequently lost their lives in the gas chambers. In 2003, she wrote a book about the Holocaust of the Jewish population in Hungary. She still travels through Europe to read and speak against oblivion.
"Only those who were there know what happened there, so it is a very important moment in my life, to attend a trial where an SS man who served in Auschwitz-Birkenau will be sentenced. It is not about his punishment, it is about his judgement," said Pusztai-Fahidi before the start of the trial.