AC/DC drummer admits 'threatening to kill', but may not be convicted
Comments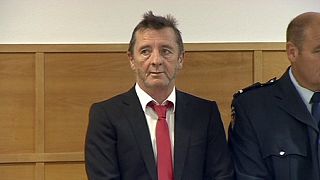 Phil Rudd is used to being under the spotlight. But in a New Zealand court on Tuesday (April 21) the AC/DC drummer came under a different kind of scrutiny.
He pleaded guilty to one charge of threatening to kill and possession of cannabis and metamphetamine. A second charge of threatening to kill was withdrawn on Tuesday, while an earlier accusation of attempting to procure a murder had already been dropped,
AC/DC : le batteur Phil Rudd plaide désormais coupable #rock#AC/DC #batteur#PhilRuddhttp://t.co/OFtv7vBxTfpic.twitter.com/Qca5bIVSf5

— Culturebox (@Culturebox) April 21, 2015
Tauranga district court heard the musician wanted a former employee "taken out." However, Rudd's lawyer said the comment was made in anger when the launch of his solo album didn't go well.
"This matter was, essentially, just an angry phone call," said lawyer Craig Tuck, "that resulted in the police getting a search warrant, believe it or not, for possession of cannabis… and a cell phone."
Tuck is expected to challenge conviction. Under New Zealand law, a judge can decide not to enter a conviction, even if the accused pleads guilty. This option can be taken if the judge thinks the consequences of the conviction outweigh the severity of the crime.
Rudd has been remanded on bail until sentencing takes place on June 26, 2015, meaning he won't be joining AC/DC on their forthcoming world tour.
He was sacked from the Australian heavy metal band in 1983, then reinstated 11 years later. The drummer has lived in Tauranga, some 200 kilometres south of Auckland, for over 30 years.