UK leaders on the campaign trail
Comments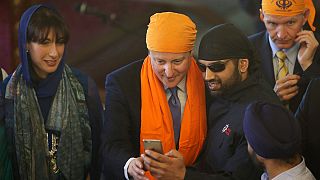 British Prime Minister David Cameron visited a Sikh temple in southeast England to take part in spring festival celebrations – and try to win some extra votes ahead of the May 7 general election.
With a new poll putting the Conservative and Labour parties neck and neck in one of the country's closest elections in decades, party leaders are pounding the campaign trail.
In a major speech on immigration, Labour leader Ed Miliband said his party would protect British wages by making it a criminal offense to underpay or exploit migrant workers.
He also pledged to hire extra border control staff and impose English language requirements on new immigrants.
Miliband's bid to change the perception of Labour as soft of immigration reflects recent polls that say 76% of people living in Britain want to see a reduction in the number of immigrants in the country.
The UK Independence Party – or UKIP – led by Nigel Farage is built on that one key platform: Britain needs to control immigration by leaving the European Union.
But for every voter who embraces that message, others say immigrants come to the UK to work, pay taxes and boost the economy.
No party looks likely to win an outright majority so who eventually ends up in Downing Street will also depend on which parties can find enough common ground to form a coalition.