Election day arrives in recession-hit Finland
Comments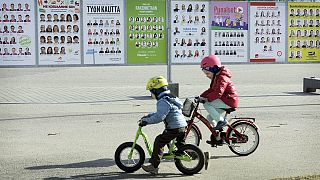 Finns go to the polls on Sunday to elect a new government amid a deep economic slump.
Opinion polls suggest voters are likely to ditch the centre-right government as the country tries to recover from a three-year recession.
Prime Minister Alexander Stubb from the National Coalition Party has been struggling to counter business gloom and an unemployment rate of 10 percent, the highest for a decade.
The Centre Party has been leading in the polls – on 24 percent support according to one survey.
Favourite to become Finland's next prime minister is its leader Juha Sipilä, a millionaire businessman who only entered politics four years ago.
Eyes are also on the nationalist Finns Party, to see whether its projected strong showing lands it a place in a coalition government.
Leader Timo Soini has attacked immigration and the EU and wants Greece kicked out of the eurozone.
But comparisons between Finland and Greece are now being made, with some asking whether Helsinki might also need an EU-driven bailout one day.
Cities like Tampere, which once basked in Nokia's success, suffered badly from the demise of the mobile phonemaker, which was taken over by Microsoft.
Unemployment in the region is 16 percent, well above the national average.
Finnish exports to nearby Russia have also suffered due to sanctions imposed over the Ukraine crisis.
Once lauded as an example of Nordic success, Finland is now one of the eurozone's weakest economies – with many saying profound reforms are badly needed.