10,000 migrants enter Italy in last week alone
Comments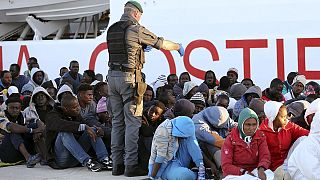 The wave of migrants arriving at Italy's ports is showing no sign of let up, as hundreds more arrived in Pozzalo on Friday morning.
Ten thousand people have entered the country in the last week alone, after risking the dangerous journey across the Mediterranean in overcrowded boats.
Another 450 people are thought to have drowned.
On Thursday Italian police at the Sicilian port of Augusta arrested 10 suspected traffickers who were among hundreds of migrants rescued at sea.
The traffickers don't normally make the journey themselves, according to Bakary Darboe, who arrived at the port of Pozzalo on Friday morning.
Darboe: "They are Libyans, they're all Libyans. They never get on the boat. They only put you in the boat and leave you there. It's now left to you. And Allah. The Libyan guys are not good. They beat you, they kill you, Alhamdulillah I survive."
Fifteen Muslim migrants from Ivory Coast, Senegal and Mali were arrested in Palermo, suspected of throwing 12 Christians overboard during the journey from Libya. They have been charged with multiple homicide motivated by religious hatred.
Italy's Coast Guards, meanwhile, are bracing themselves for even more arrivals.
"Surely with such positive weather forecasts for the next few days, with a very calm sea, we are expecting further landings," Leopoldo Manna, Chief of the Coast Guard situation room, said on Friday.
Italian authorities say the EU's border patrol mission, known as Triton, is underfunded, leaving Italy to pay the lion's share of sea patrol and rescue operations.