Russia and Ukraine at loggerheads after Buzyna and Kalashnykov murders
Comments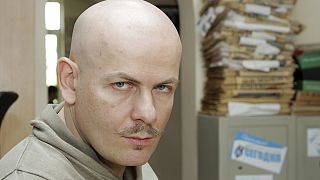 A war of words has erupted between Ukraine and Russia after the second murder in two days in Kyiv of a prominent pro-Moscow figure.
Journalist Oles Buzyna was shot in broad daylight outside his home by gunmen in a passing car.
A critic of Kyiv's government, he wrote opinion pieces for Ukraine's
Segodnya daily.
Earlier, former MP Oleg Kalashnykov – a close ally of Ukraine's ex-president Viktor Yanukovych – was also gunned down outside his flat.
Both murdered men were witnesses in criminal cases relating to violence against pro-Western "Maidan" protesters last year.
Some Ukrainian officials and analysts suspect Russian involvement in the killings, to blacken Kyiv's image.
"Both were very similar to each other: the killers were waiting outside the house. The murders were audacious and well-planned. The Russian secret service might have wanted to show that here in Ukraine pro-Russians who are against the Ukrainian authorities get shot," said Anton Gerashenko, an MP and senior adviser to the interior minister.
In Kyiv, political analyst Volodymyr Fesenko One said the fact that the killings coincided with Vladimir Putin's annual phone-in "aroused great suspicion".
The difference with Russia, Vladimir Putin said, was that killings such as that of opposition figure Boris Nemtsov got properly investigated, leading to arrests.
"In Ukraine, which pretends to be a democratic state and wants to be part of a democratic Europe, nothing like that is happening. Where are the murderers of these people? They are simply not there, neither those who carried them out nor those who ordered them, But Europe and North America prefer not to notice."
Ukrainian President Petro Poroshenko has ordered an investigation into the murders – calling them "deliberate" acts designed to destabilise Ukraine that "play into the hands of our enemies".
Several other figures connected to Yanukovych's former government have died suddenly in recent months.