Right-wing Dutch politician speaks at anti-Islam rally in Dresden.
Comments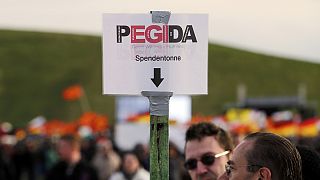 Right wing Dutch politician Geert Wilders spoke at a meeting in Dresden of the anti-Islam PEGIDA movement on Monday.
The crowd fell far short of the 30,000 the organisers had hoped for, with police estimating it at around 10,000.
Wilders was invited by PEGIDA leader Lutz Bachman, a move seen by some as an attempt to boost its fading influence after a series of protests across Germany and Europe.
"You are here together with me because we are PEGIDA. Patriotic Europeans against the Islamisation of the West", Wilders told his audience. "We are the people. In my eyes you are heroes."
Wilders offered to take German Chancellor Angela Merkel back to the Netherlands with him, drawing chants of 'Merkel must go' from the crowd, which was mostly made of middle-aged white men.
A counter demonstration was also held in Dresden, which German media said was made up of around three thousand people.
PEGIDA's momentum started to fade rapidly after co-founder Lutz Bachman posed on Facebook with a Hitler moustache that he tried to laugh off as a joke.