Le Pen grand-daughter to replace FN founder in French regional poll
Comments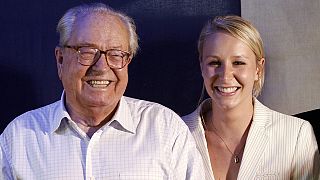 Marion Marechal-Le Pen, the grand-daughter of France's Front National (FN) founder, Jean-Marie Le Pen, is to replace him as candidate in regional elections later this year.
Her acceptance to run is on the proviso that she does so alone and without any other candidates loyal to her grand-father.
Marion Marechal-Le Pen: The poster girl of French far-right http://t.co/t1Yhi0uvTbpic.twitter.com/ATUgLzF3Mi

—

FRANCE

24 (@FRANCE24) April 13, 2015
Le Pen senior recomended the 25-year-old, whose views are similarly conservative as his own, as a dig at his daughter and party leader Marine Le Pen.
FN Deputy President Florian Philippot welcomed Le Pen's decision to withdraw from standing in December's Provence-Alpes-Cote d'Azur (PACA) regional election.
"It is wise of him to retire especially after Marine Le Pen told him that she would oppose his candidacy. It is a wise act and a welcome show of wisdom," said Florian Philippot.
Relations between father and daughter degenerated last week after Jean-Marie once again said that the Holocaust was 'a mere detail in history'.
An angry Marine Le Pen who is trying to modernise the party and clean up its racists and anti-semitic image wants her father to withdraw from politics altogether.
Marion is seen as lined with the socially conservative side of the party. Whereas Marine for example did not publicly criticise a 2013 law permitting same-sex marriage in France, Marion was firmly against it.
Opinion polls see Marine Le Pen as likely to make it to the second round of the 2017 presidential elections but not win.