Cuban hopes for a brighter future and relations with the US become warmer
Comments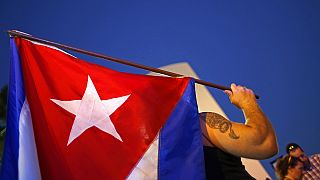 Cuban citizens in Havana have high hopes that the apparent thaw in relations with the US will change their lives for the better.
President Obama's historic meeting with Cuba's Raul Castro on Saturday has been the talk of the town, and the hope there is that America will remove trade sanctions against the Caribbean country.
"All Cubans are expecting the US government to soften the embargo in place against Cuba, because we Cubans also have the right to breathe freely," said Havana resident Lazaro Padilla.
But in the city of Miami lives one of the largest Cuban communities in the US. Many of them risked their lives to escape the Castro regime, and there is some scepticism.
"That meeting between Barack Obama and Raul Castro was like a party for them both," said Miguel Saavadra, a Cuban living in Miami. "Like they were friends, shaking hands, when Cuba is the paradise of international terrorism. Obama knows that. Despite that meeting and the hope for change, Cuba will never change."
Others, like Salvador Lew, shared the same hope as the people back in Havana.
"I hope Castro uses that meeting with Obama to help the people of Cuba to live better, not only economically, but freely, as in the United States."
Saturday's meeting between the two leaders at the Summit of the Americas in Panama City was the first such formal meeting in more that 50 years. Historic it was, but many Cubans hope it also represents a more prosperous future.
#Quote of the Day from U.S. President Barack Obama on U.S.-#Cuba ties: pic.twitter.com/o7Ec3g63kb

—

CFR

(@CFR_org) April 10, 2015